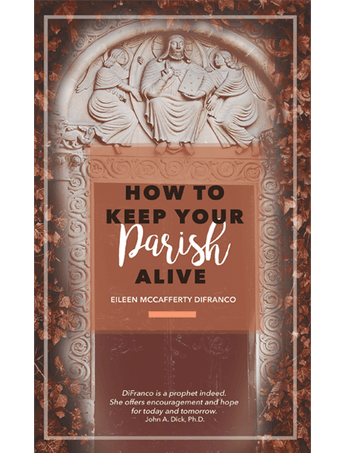 How to Keep Your Parish Alive
Eileen DiFranco
Regular price $ 14.95 Special Offer
The Catholic Church cannot uplift or minister by diminishing its presence in the world. The ongoing priest shortage has led to the massive, worldwide closure of parishes, largely without the input or consent of the laity. Eileen DiFranco insists that the People of God deserve better. Her beautifully written and meticulously researched How To Keep Your Parish Alive provides those faced with parish closings with a practical way to resurrect their parish as an intentional Eucharistic community much like the way the church was organized at its beginning. It is informative, hard-hitting, and ultimately deeply inspiring.
Praise
"DiFranco inspires us to want to be part of a parish centered on God's love for us and on our response to that love by loving others."    
-- Betty Clermont, author of The NeoCatholics: Implementing Christian Nationalism in America.
"Anyone who knows Eileen DiFranco knows her passion and her lack of fear. In How to Keep Your Parish Alive the reader gets to know her deep insights into love, community, scripture, and the message of Jesus. DiFranco goes beyond injustice to provide practical advice about forming – or perhaps joining – an intentional Christian community."
--Regina Bannan, Ph.D.
"In every age the church needs prophets, not to predict some future events but to challenge and energize people to reflect and to reform church structures. In every age the church needs reform and reformers otherwise, the Gospel is not proclaimed and the church becomes just that closed and empty building down the street. As Eileen DiFranco says, we are living in desperate times and the church must be characterized today by its active presence and availability, not its absence or pastoral chaos.
Eileen Di Franco is a prophet indeed. She is wife, mother, teacher, and a Roman Catholic woman priest. In her book, How To Keep Your Parish Alive"  DiFranco correctly assesses and describes the current pastoral calamities arising and spreading across the church in the United States. More importantly she proposes creative and life-giving structural changes that offer encouragement and hope for today and tomorrow. She realistically addresses parish closings, a shortage of ordained ministers, financial accountability, shared decision-making, combating hierarchical power, building small communities of faith, and moving the church from signs of death to Christian realities of resurrection and ascension."
-- John A. Dick , Ph.D., international speaker and journalist, is an historical theologian, emeritis Catholic University of Leuven