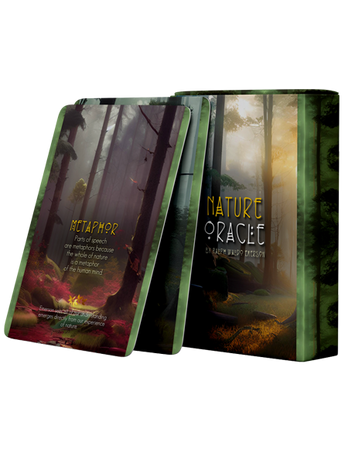 Ralph Waldo Emerson Nature Oracle
Jeff Carreira
Regular price $ 19.50 Special Offer
This oracle deck is based on writings from the book Nature by Ralph Waldo Emerson first published in 1836. In the book, Emerson lays out his idealistic philosophy of nature mysticism and encourages his readers not to look to tradition for spiritual wisdom, but instead to seek the truth directly for themselves. At the heart of his philosophy is the assertion that the material world and our own physical existence do not define reality because we are spiritual beings whose source is as vast as the universe itself. The aim of his book is to show how we can awaken to our own true nature and realize our ultimate spiritual power. During the two decades following the books publication the ideas it introduced became central to the spiritual movement known as Transcendentalism and Emerson's belief that we can discover the mysteries of spirit through the direct examination of our own inner nature and the world around us is often seen as the beginning of the spiritual-but-not-religious tradition in the United States.

How To Use This Deck
The passages you find on these cards contain spiritual wisdom that can be used to guide your own inner explorations. Use these cards as a focus for contemplation.
Choose one card each morning and contemplate its meaning. Look deeply into your own experience to see if you have some experience of what the card suggests.
If you feel spiritually stuck or adrift, choose three cards and place them face down. Sit in silence for a moment before turning the cards over. Read all three cards and intuit what wisdom the combination of messages have for you.