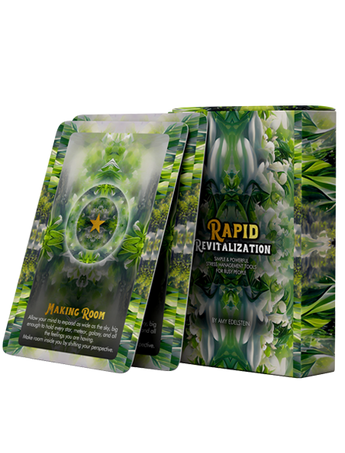 Rapid Revitalization Stress Management Card Deck for Adults
Amy Edelstein
Regular price $ 19.50 Special Offer
Being an educator of any kind can be stressful, frustrating, and even, at times, heartbreaking. Setting another's heart and mind alight with the joy of learning can also be rewarding, joyful, and even miraculous.
Rapid Revitalization will help you get the most out of every day of engagement with the process of education and transformation, changing your perspective, guiding you to plumb the depths of your intuitive knowledge, and revealing a pathway forward even when you might have thought the doors were all closed.
This deck is specifically designed to pull from the best evidence-based mindfulness practices and perspectives to uplift your experience as an educator, teacher, mentor, or guide, helping you reframe your experience as one of wonder, fulfillment, compassion, joy, and love.
The insights in this deck were drawn from Amy Edelstein's award-winning The Conscious Classroom