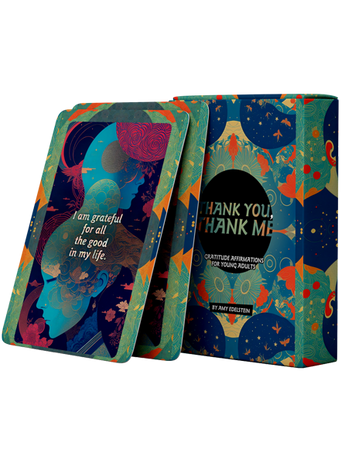 Thank You, Thank Me! Gratitude Card Deck for Teens
Amy Edelstein
Regular price $ 19.50 Special Offer
Practicing gratefulness is an evidence-based method to lift your mood, help you feel more connected to others, and increase your sense of happiness and positivity. When you practice gratitude daily over time, you begin to notice and appreciate the many small gifts in life, from the gift of sight and speech, to the gift of nourishing food and restful sleep. Start by noticing your favorite color or song and build from there! This deck contains gratitude affirmations that you can work with every day. Remember, even on hard days, there are still things to be grateful for and when you find them and acknowledge them, you will feel empowered and enriched!
The affirmations on these cards were developed by Amy Edelstein, based on her work with Inner Strength Education, the school mindfulness program she founded in 2014.
How To Use This Deck
Sit with your eyes closed and notice your breath going in and out. Let yourself become calm and centered. Hold the cards in your hands or spread the facedown on a table and choose one card. Hold the card you chose, preparing yourself to connect with the gratitude affirmation. Read the affirmation slowly, letting it sink in. Feel how that affirmation is true for you, in ways you might not have appreciated at first. Repeat the affirmation to yourself. To close journal about what you noticed or take three mindful breaths.
Hold the cards in your hands or spread them facedown on a table. Pick two cards that you feel drawn to. Choose one card to represent the gratitude you feel now. Choose the second card to indicate the gratitude you want to feel more deeply. Read the two statements and repeat them to yourself. Recognize how you are growing more loving, caring, and appreciative.
Sit with a friend. Choose a card for yourself and have your friend choose a card. Describe to your friend how you experience your gratitude affirmation and what you are grateful for. Listen as your friend describes how they experience gratitude. Feel yourself connecting to your friend as you listen mindfully and heartfully to their positive expression of thanks and care. Close by taking three mindful breaths together, allowing your heart to feel full.