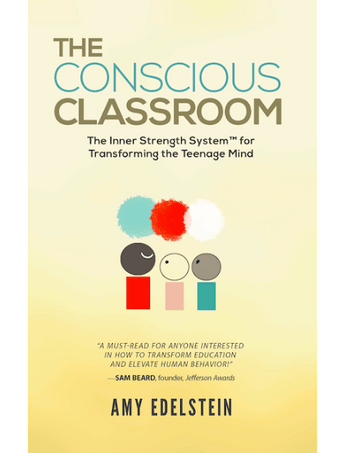 The Conscious Classroom
Amy Edelstein
Regular price $ 17.95 Special Offer
IPPY Award Winner Excellence in Educational Theory
The Conscious Classroom: the Inner Strength System for transforming the teenage mind
shows educators, parents, and everyone concerned about our youth a sound, illuminating, and uplifting way to educate our kids today for their well-being in the world of tomorrow. The Inner Strength System is currently being used by over a dozen high schools in the inner city of Philadelphia to support thousands of teens to realize their higher potentials. In this evidence-based program, she uniquely pairs the best of her 35 years experience with mindfulness tools with the art of systemic and developmental thinking. Given how rapidly our world is changing, our teens urgently need skills that help them rise above emotional as well as practical upheaval. The guidance offered in this book gives educators both the understanding and the tools to work with challenging classrooms today. It empowers teachers to train our adolescents with education that will prepare them both inwardly and outwardly to be wise and compassionate stewards of our shared future.
"A must read for anyone interested in how to transform education and elevate human behavior!"
--Sam Beard, founder, The Jefferson Awards
"This book is a wellspring of life-giving water in the heart of the contemporary educational desert!"
--Mirabai Starr, author of Caravan of No Despair and God of Love
"This is an inspiring book that looks towards the future with open possibility. Amy Edelstein skillfully shows us the power of mindful awareness in developing clarity and perspective and how these benefits can ripple out far and wide."
 --Diane Reibel, Ph.D., Director, Mindfulness Institute, Thomas Jefferson University
"A game changer, this book defines the path for how we might collaborate to fulfill the mission of educating conscious citizens."
 --Jonathan Miller-Lane, Ph.D., Director, Program in Education Studies, Middlebury College, VT
"The work of Amy Edelstein, in The Conscious Classroom, is so critical.  The Inner Strength System equips young people with the tools that breed resilience and emotional self-sufficiency. With these tools, they can stay grounded and rise above the tumult of an uncertain world. 
--Sharmain Matlock-Turner, CEO, Urban Affairs Coalition, Senior Fellow, Fels Institute of Governance.
"Amy Edelstein's The Conscious Classroom is a clear and strong voice that empowers teens through mindfulness practices to navigate change, complexity, and culture."
--Valerie Brown, JD, MA, PCC, Co-Author, The Mindful School Leader: Practices to Transform Your Leadership and School